PMR Automatic Filling Line
USED!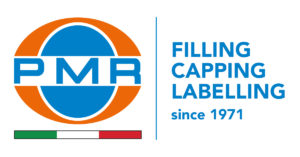 PMR automatic filling line
The automatic filling line is composed of the following units:
1. Stainless steel conveyor belt length 4000 mm, width 115 mm
2. Volumetric cup dosing unit
Suitable to dose micro pellets into bottle, complete with:
– Loading hopper with lower vibrating plane complete with separating net
– Distributing brush suitable to move micro pellets into discharge cup
– Lower conical loading hopper
– Sliding lower gate for product stop during loading/discharge phases,
after automatic bottle positioning under dosing unit
– Pneumatic command devices
Installed power: 1.5 kW
Electrical feeding: 380V – 3 phases + N + E
Pneumatic feeding: 6 bar
Compressed air consumption: 200 Nl/min.
3. Semiautomatic labelling unit mod. D160 for round product's
Product shape: flat, round and oval
Stepper motor: 24 V DC
Label size: min width x min length mm 10 x 10
max width x max length mm 100 x 150
Label reel sizes: O external max mm 250 – O internal min mm 40
Power: 230 V AC
Output capacity: 600 bottles per hour
Manufacturer: PMR SYSTEM GROUP SRL, Italy
The line was manufactured in 2012, installed in 2013
Line was used for packing homeopathic products (micro pallets in plastic battles):
diameter 13mm height 66mm (4 gr. in battle).
Operational and service manual in PDF and hard copy (on English)
Condition: the line has not more than 30 working hours (was used only 4 time)
Stock Number: WP451325
We also offer a complete electrical and mechanical refurbishment service for all our machinery.
We also offer full validation, Installation, Commissioning and training on all our machinery.
Please contact us with your requirements
Phone: +44 (0) 1202 870 890
Email: sales@westpharmaservices.co.uk
Enquire about product