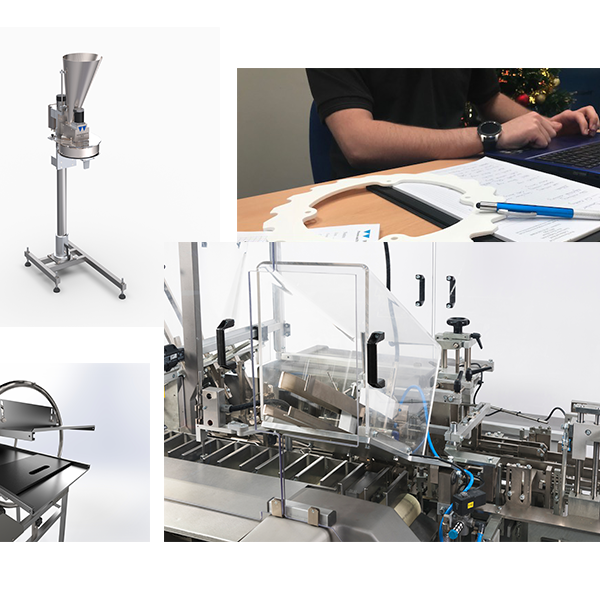 About Us
In addition to selling high quality used machinery from world class manufacturers. We also design and build our own machinery.
We use the latest 3D computer aided design software from SOLIDWORKS which enables us to carry out:
Product Renders
Finite Element Analysis (FEA)
Mechanical Simulation
Thermal Analysis
Flow Analysis
The use of this software is to ensure maximum life and performance of our products.
We have invested in the latest technology with 2 in house 3D printers allowing us to undertake various kinds of prototyping FDM 3D printing in house.
Investment has also been made in our workshop increasing our in house manufacturing capabilities.
We refurbish individual machines or complete lines to provide a cost-effective solution as an alternative to new machinery.
We have now supplied more than 1000 machines worldwide stretching from Malaysia to Canada. We have supplied machinery to start-ups to major multinational corporations.
We also have a growing list of companies we are agents for in the UK which allows us to offer an ever-increasing portfolio of new machinery and services.
West Pharmaservices has now been trading for over 20 years and remains a family run business offering the very highest levels of service to our customers.
Technology Partners
West Pharmaservices are proud to announce our new technology partners on all our future projects.

Omron
Omron
Omron's primary business is the manufacture and sale of automation components, equipment and systems.
For more information on Omron please visit their website.

Wago
Wago
WAGO's mission is to satisfy its customers' needs by supplying quality products on time, through its most valuable resources—its people and innovation. Indeed, for over 50 years, WAGO has built a foundation on innovation through industry-changing technologies and revolutionary new products. But it is the company's services, concepts and people operating behind the scenes that ensure WAGO's continued success.
The conceptual shift away from considering automation projects in isolation to offering total solutions with compatible components is the driving force which enables WAGO, as a component supplier, to develop new and innovative products and bring them to the marketplace. As the inventor of the spring pressure termination technology, WAGO relies on these innovative connection systems to develop electronic subsystems as well as electrical connectors.
For more information on Wago please visit their website.

Pro Face
Pro Face
Development, manufacturing and sales of graphic operator interfaces and control equipment for industrial automation applications.
For more information on Pro Face please visit their website.