CAM ASB38 Automatic Bundler
USED!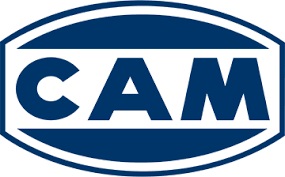 Automatic bundler stretch-bander model "ASB38"
The CAM automatic bundler model "ASB38" is one of
the simplest and most compact machines available on
the market. It can solve any problem relevant to collation
and bundling of cartons, bottles, trays, and various products
in any arrangement.
– The use of a single reel of wrapping material allows a better
usage of it and a real reduction in changeover times.
– The electromechanical stretching system allows a constant
band tension independent of the reel diameter.
– The single sealing position, accurately repeated on the bundle,
considerably improves the package appearance.
– The sealing obtained by means of a sealing bar in conjunction
with a film brake unit, guarantees an excellent uniform seal.
In-line in feed with side belts to turn cartons on edge.
Tray loading system, trays are loaded onto an indexing conveyor
belt and transferred to a hopper.
The cartons are collated into the required format and transferred
to the loading hopper.
The cartons are pushed up through the hopper into the tray.
The cartons and trays are pushed through the film which is then
sealed around the tray and the cartons.
Completely Refurbished by ourselves in 2002
Refurbished again by us in 2011 machine was shipped but never used in production.
New HMI and PLC
Machine is in good condition.
Stock Number: WP4501096
Enquire about product