CAM SM80 Casepacker
USED!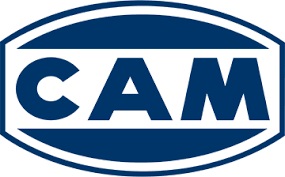 CAM SM80 Casepacker
DESCRIPTION:
Packaging machine for the final packing in boxes before
shipment that guarantees reliability, versatility, high
production characteristics even with non-top quality materials.
The modular casepacker SM80 is one of the most reliable
end-of-line machines. The machine has been developed to
accommodate complicated applications, for ease of access,
and to improve CAM standards of strength and reliability.
Consisting of three separated modules: product feeding and
collation, carton erection and carton closure, this machine
guarantees a total control and easy cleaning. The collation and
the volume of cartons have been made in a positive manner and
operated through the mechanical movement of two arms with
suction grippers. The manufactured products are accumulated,
put in layers and inserted into the erected carton.
The system of carton erection and product introduction into the
carton allows for higher speed of packaging and guarantees higher
stability of the products..
SECTORS OF USE:
Pharmaceutical, chemical, cosmetics, food, dietary,
medical devices, manufacturing
Year of construction: 1993
TECHNICAL DATA
Width mm 2100
Length mm 3110
Height mm 1850
Net weight Kg 1730
Output max. cases/min 16
Stock Number: WP451309
The machine can be modified to suit your requirements.
Please contact us for a quotation.
Phone: +44 (0) 1202 870 890
Email: sales@westpharmaservices.co.uk
Enquire about product